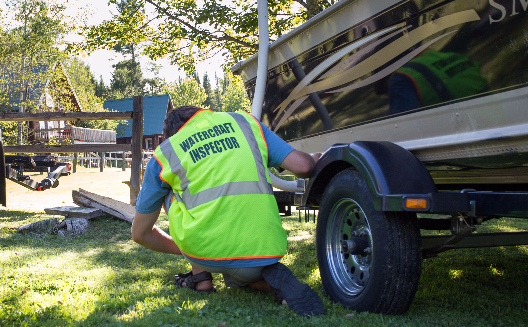 LAKE VERMILION and BURNTSIDE LAKE — Aquatic invasive species (AIS) prevention teams in Itasca, Cass and St Louis Counties are joining forces to pilot innovative ideas to help resort, lodge, campground and marina owners protect their lakes. This two-year project will focus on increasing boat inspections and early-detection activities and on supporting stewardship at these lake businesses.
The project is led by the Itasca Soil and Water Conservation District (SWCD) and is funded in part by a grant from the Initiative Foundation. Also participating in the project are Cass SWCD, North St Louis SWCD, Vermilion Lake Association (VLA) and Burntside Lake Association (BLA).
"Our lake association has worked with North St Louis SWCD and Burntside Lake Association for several years as we battle AIS together," said Terry Grosshauser, VLA president. "This $60,000 grant from the Initiative Foundation will allow us to better support our lake businesses at Vermilion and Burntside."
In 2017, North St Louis SWCD and Vermilion Lake Association began working with Vermilion's resorts, campgrounds and marinas with private accesses to expand boat inspections and vegetation early detection.
"We found the business owners to be very committed to AIS prevention and eager to work with us," said Emily Nelson, a DNR-trained AIS Detector and inspection supervisor at North St Louis SWCD. "And we learned a lot about how to make the program even better in 2018. This funding will help us do that."
A key principle within the AIS prevention community is sharing ideas with others.
"Everything learned at Vermilion will be applied to Burntside," emphasized Ward Nelson, BLA president. "But now, through this multi-county project, AIS teams in Cass and Itasca will also benefit from our work. And we will more quickly benefit from theirs."
"Developing innovative methods to apply what works in one region to other regions is a key objective of this project," added Jeff Lovgren, VLA AIS program leader. "We anticipate that will not be easy. Vermilion, for example, has 23 private accesses concentrated on one lake. On the other hand, Itasca County has over 100 resorts and lodges spread widely over many lakes and a large geographic area."
Funding for this project was provided from the Outdoor Heritage Fund, as appropriated by the Minnesota State Legislature. The Initiative Foundation selects innovative projects to support and oversees those projects.